AK Surf Foil Front Wing 2000cm
The AK Surf Foil Front Wing is a 2000cm2 Airush/AK compatible front wing which can fit onto any Airush or AK hydrofoil fuselage from 2018 onwards. This wing is designed to be easily pumped, used in surf and be very stable.
The AK Surf Foil Wing was developed primarily for Wingsurf use. It combines a high lift profile with a stable delta design that comes up smoothly and pumps efficiently.
On the front wing, the elliptical wing tips are swept down for directional stability. The delta shape maintains the key lifting area in the centre of the wing underneath the rider.
2000cm2 DELTA ELLIPTICAL SURF WING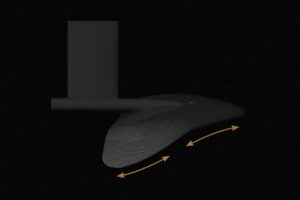 For the crossover athlete the AK Surf Foil can be configured in pure surf mode with a swept down rear wing. Or the rear wing can be inverted for a more stable platform. Helping at speed such as kite or wake use or when used with a longer mast and smaller wings. It is compatible with Airush Kite wings for the kite or wingsurf enthusiast.
AK WingSurf Foil – 2000cm2
This front wing can be fitted to any Airush foil set up. If you already have an Airush Core kite foil with smaller wings, this can be simply swapped over to give you a hydrofoil for wingsurfing. With all different sizes of front wing you can be fully set up for a whole range of sports: Kitesurfing, Surfing and Wingsurfing